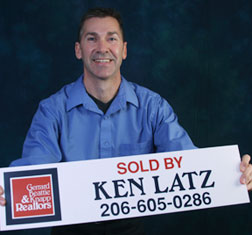 KEN'S BIO
I was born and raised in Michigan as part of a large, yet close knit family. I've developed strong ties with my relatives living all around the world. I have traveled extensively, learning other cultures, seeing world sites and experiencing new things.
I moved to Seattle in 1989, and fell in love with the region instantly. Its versatility satisfies all of my interests, including scuba diving, hiking, backpacking, skiing, and gardening.
I also enjoy the extensive entertainment options that Seattle has to offer, from the deep variety of cultural events to the diversity of the music scene to the award-winning stage productions.
I represent my clients with a high level of personalized service, conducting myself with the utmost professionalism to deliver impressive results. In helping my clients in the Greater Seattle real estate market to find their dream home or sell their special residence, I take every measure to assure that all of the client's goals are achieved. I am very astute and through my clear understandinig of the current trends, I am able to consistently identify key opportunities for my clients. My attention to detail, consistent follow through and determination to indulge my clients with first class service sets me apart.
---

ePRO CERTIFIED
Attaining skills to use the Web and to employ the latest interactive techniques and services
> website for details
---

ACCREDITED BUYERS REPRESENTATIVE
Gaining skills, industry knowledge and access to specialized programs to successfully represent homebuyers
> website for details
---

ACCREDITED SELLERS REPRESENTATIVE
To deliver "added value services" including exclusive representation, honesty in pricing and adherence to strict ethical standards
> website for details
---

ACCREDITED STAGING PROFESSIONAL
training under strict guidelines to use proven Staging techniques developed for over more than 30 years
> website for details
---

Working in our clients' best interests since 1978.
> Gerrard Beattie & Knapp LLC
---